Jul 11 2009 7:00PM 
:: Dj Eve -Lyz (Paris) and Thomas Mccluskey (UK) ::@The Wave fm
Drive: Dj Krlox 
Related links:
http://www.myspace.com/djevelys
http://www.myspace.com/e383
For this one special night we have two special friends of techno movement around the world, Dj Eve -Lyz from Paris, France will delight you on techno beats and fine with parfum notes on the mix for the hands of a real lady.
At the other side a powerfull mix of Thomas MCcluskey for entrance into the underground wave special for present his releases from Electrax Recordings
As weel into the good vibes from the drive of Dj Krlox and the production is from Erika Cejas & Ludmille Van Henz. Don't miss it, you will be dancing on your chair.
TUNE IN:
19 hs AR GMT-3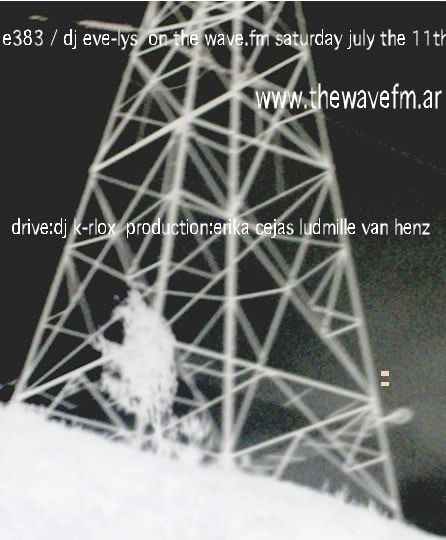 technoart by Eve -Lyz